He was laid to rest in Sandringham Churchyard where a large attendance of friends came to pay their last tribute as well as several people well known in the musical circles of Norfolk and Cambridgeshire. Their Majesties were represented at the funeral by Mr. & Mrs. Frank Beck and in addition to telegraphing messages of sympathy to the family the King and Queen ordered some beautiful floral tokens to be placed on the coffin. Here is a full transcription of the tribute reported in the Eastern Evening News dated 29th August 1906.

THE LATE MR. A. H. CROSS, A.R.C.O.
INTERMENT AT SANDRINGHAM

Sympathy and regard were in much evidence at Sandringham on Tuesday afternoon when the remains of the late Mr.Arthur H. Cross, A.R.C.O. were interred in the Sandringham Churchyard. Held in the highest esteem, there was a large attendance of friends to pay a last tribute to his memory and several people well known in the musical circles of Norfolk and Cambridgeshire were among those present. The deceased gentleman, who died on Saturday, in his 48th year, at his residence, Cantelupe House, Dersingham, was widely known as the organist and choirmaster at the Sandringham Parish Church. He was also in great request as conductor of various musical ventures, and his services in this respect, always given willingly, and voluntarily, were greatly appreciated. He worked hard and continuously, and it is feared that his enthusiasm for the advancement of music at last affected his health, and brought him to a premature end.. It is a somewhat singular fact that the King, when Prince of Wales, gave him the appointment as organist and choirmaster at the Sandringham Church on August 28th, 1878, that he held it for 28 years, and that he was buried on August 28th, within a few yards of the organ he had played for so many years.

The deceased began his musical career as a chorister boy of Jesus College, Cambridge, where he remained for upwards of eight years. He was gifted with an exceptionally fine voice and in consequence was in great request as a boy vocalist at concerts in all parts of the country. During this period he studied and developed organ and pianoforte playing and general musical culture under Mr.Frederick Dewberry, Mus. Bac. of Cambridge, and at the age of 17 he was holding a church appointment, and deputising at several college chapels. When he was 20 years old the appointment at Sandringham fell vacant , and it was upon the recommendation of the late Dr. G. M. Garrett, then organist to the University and of St John's College, that he secured the post, having qualified as A.R.C.O. in the same year. To his efforts it is due that the choir has been brought to such a high standard of efficiency, and he has, in addition, done much for the improvement of music in West Norfolk. He was highly esteemed by all the members of the Royal family, and during his illness he was attended to, under the instructions of the Queen, by Sir Alan Reeve Manby, M.D. Their Majesties were represented at the funeral by Mr. and Mrs.Frank Beck, and, in addition to telegraphing messages of sympathy to the family, the King and Queen ordered some beautiful floral tokens to be placed on the coffin.

In the absence of the Rev. Canon Hervey, rector of Sandringham, the Rev. Percival Farrar, curate, officiated at the funeral service, and he was assisted by the Revs. J. De Putron (Stowe), E.E. Heseltine (Great Cressingham) and P.C. Stanley (Old Hunstanton), former curates of Sandringham. The chief mourners were the wife and six children of the deceased, Mr. and Mrs. W. H. Cross (brother and sister-in-law, of Cambridge), and Mr. and Mrs. T. Harris-Spencer (sister and brother-in-law of West Bromwich. At the service in the church the choir sang the hymn, "Abide with me" and the 90th Psalm and the Rev. De Putron read the lesson from the 15th Chapter of Paul's Epistle to the Corinthians. At the conclusion of the first portion of the solemnisation Dr. Mann of Cambridge, who presided at the organ, played the "Dead March" in Saul. The final ritual at the graveside was intoned by the Rev. P. Farrar, and the choir sang "Now the labourer's task is o'er". The members of deceased's family carried floral sprays, which they deposited in the grave after the coffin had been lowered. A large wreath of choice flowers, sent by the estate choir children, occupied a portion on a pedestal at the head of the coffin while it remained in the church.

Among the congregation, which crowded the little church were representative tenants and employees on the Sandringham estate, and many people from the towns and villages of West Norfolk. Among them were the Rev. F. A. S. Ffolkes (rector of Wolferton), Rev H. Barratt (Hunstanton), Rev. A. H. Ellerby (Grimston), Rev. J.R. Crawford (East Walton), Rev. F.P. Gilbert (South Wootton), Rev. R.A. Cliff (Hunstanton), representing Miss Cliff Mus. Bac., Mr.G.E. Rose (President), Messrs. G.B. Kendrick and G.R. Oswell (secretaries), Mr.J.R. Pratt and Mrs. Kendrick, and representing the Lynn Musical Society, of which the deceased was hon. conductor: Messrs. Holcombe, Ingleby, J. Jewel and D.S. Page, representing the Lynn and Hunstanton Amateur Operatic Society: Mr.R. Pull, Miss Pull and Miss Clara Kemp, representing the Heacham Choral Society: Miss Andrews and Mr. G. Mallett, representing the Hunstanton Choral Society of which organisation Mr.Cross was also hon. conductor: Mr. C. Ibberson, Mr. W.G. Payne, Mr. H.H. Dow and Miss Clara Dow, Mrs. Monkman, Mr. J.H. Page, Mr. and Mrs. J.T. Jannock and Miss Jannock, Mr. Betts, Mr.G. Baker, Mr. R.A. Wilkin, Mr. Vincent, Mr. G.A. Dines, Mr. J. Rutter, Mr.E.M. Beloe, jun., and many others.

There was a large and beautiful display of wreaths, crosses, harps with broken strings, lyres and other devices. In addition to the family wreath, the president and members of the King's Lynn and Hunstanton Amateur Operatic Society sent a lovely wreath "In affectionate remembrance of our dear friend and hon. musical conductor". "A token of sympathy and great esteem" came from the past and present members of the Dersingham Choral Class; and the Lynn Musical Society sent a magnificent harp. The committee and members of Hunstanton Choral Union contributed a charming device. "With sincere sympathy and deep regret". "With sincere and heartfelt sympathy" was the wording attached to a harp from the council and members of the eastern section of the Incorporated Society of Musicians. Among others were those from Mrs. George Cresswell and Miss Winifred Gurney, Mr. and Mrs.Frank Beck, Mr. and Mrs.Ingram Watson and family, Mr. and Mrs. T.H. Spencer, Mr. and Mrs. Dodman and family , Mrs.Cross (mother), Mr. and Mrs. MacLaren, Mr. and Mrs. Jannock, Mrs. and Miss Smith (Hunstanton), the Rev. P. Farrar, Mr. Richards, Miss Cecil, Dr. and Mrs. Hogg, Mr.Holcombe Ingleby, Mr.Harold Hancock, Rev. and Mrs.Alirs [?] and family, Miss Clara Dow, Mr. E. Wright, Miss Dorothy Blake, Mr. and Mrs.Walter Jones, Mr. and Mrs. Parker, Mr. and Mrs. Cook, Mr. and Mrs.W. Tansley, Mr. and Mrs. Clifton and family, Mr. and Mrs. Wootten (Cambridge), Mr. and Mrs. Dewberry and Agnes (Cambridge), Mr. and Mrs, W.B. Cross, Miss Sergeant [possibly should be Serjeant, a relative of Alice; Mrs. Cross], Miss Parkhouse and Dolly, Mr. and Mrs. Fred Smith Bristol, Miss Cross, Mr. and Mrs. Woodward, Mr. and Mrs. Tingey, Heacham Choral Society, Mrs. Copeland, Miss Watson, Mrs. Porter and Miss Sybil Porter (Roydon), and Mr. and Mrs. Jackson (Sandringham), Canon and Mrs. Harvey, Rev. and Mrs. Corbould Warren, Dr. and Mrs. Mann, Mr. and Mrs. Walker (Sandringham), Mr. R.A. Wilkin, Hillington and Congham Choral Class, Mr. and Mrs. Bryant, Mr. Miss and Dorothy Rowell, Mr. and Mrs. G.R. Kendrick and the Grimston and Royden Choral Class.

As can be seen many prominent Dersingham villagers attended including Mr.& Mrs. Jannoch from The Lily Nursery, the Rev. & Mrs. Corbould Warren our vicar, Mr. & Mrs. Parker from the Grocery and Drapery Store at the bottom of Sandringham Hill, Mr. & Mrs. Tingey from Manor Farm, Mr. Dodman, blacksmith, and his wife, Mr. Ernest Bryant, who had taken part in many of Arthur's concerts, and Arthur's landlady Mrs. Copeland in 1881 were just a few among the large congregation.

Arthur was laid to rest here in the in the Sandringham Churchyard.

DERSINGHAM HISTORY
Copyright © 2017
Dersingham Folk
All Rights reserved
Site by Mike Strange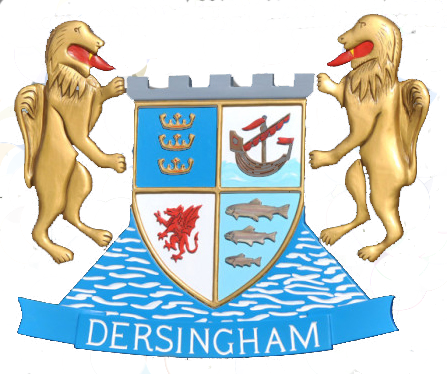 Arthur Harry Cross A.R.C.O. Professor of Music
Cantelupe House Dersingham
Elizabeth Fiddick ©

During our studies of the many records of the inhabitants of Dersingham we have always been puzzled by the entry for A. H. Cross at Cantelupe House. A professor of Music and Sandringham organist there were several references to him in reports about the village and local area which suggested he was an important member of it. The name of the house is so unusual yet defied explanation. Its exact location, or even if it was still standing eluded us until very recently when we were contacted by members of Arthur's family. With the documents, family history and photographs they shared with us alongside the census returns, old maps and documents we already had, Arthur's story can now be more fully told.

Arthur Harry Cross was born in 1858 in King's Lynn. His father Henry Cross was a cook and his mother was Mary Elliot Burgess. He had three siblings Willy, Ada and Adeline.

Arthur began his musical career as a boy chorister at Jesus College Cambridge and remained there for eight years. He was gifted with a very fine voice and was in great demand as a boy vocalist at concerts in all parts of the country. He studied the piano and organ and, at the age of 17, was holding church appointments and playing in several college chapels.

When he was 20 and had just qualified Associate of the Royal College of Organists (A.R.C.O.) the post of organist at Sandringham became vacant and Dr. Garrett of Cambridge recommended Arthur for the position. The Prince of Wales gave him the appointment on August 28th 1878 and Arthur moved to Dersingham to start his musical life in Norfolk.

The village he came to in 1878 had a population of about 1,000. It was an attractive place with the many carrstone cottages and houses to be found in the circle of roads comprising the present day Main Road, Manor Road, and Chapel Road with clusters to be found at the top of Doddshill, Fern Hill and Mill Road. There were extensive views of uninterrupted marshland and heath down to the waters of the Wash with the woods of Sandringham and fertile arable fields on the rising ground behind. Where today estates of bungalows and houses have been built at that time those areas were either pasture where the many sheep and cattle grazed or arable land. Most of the occupants then were involved with agriculture and its related trades; cattle dealers, wheelwrights, blacksmiths, market gardeners, shepherds and farmers. It was very self sufficient with several shoe makers, butchers, grocery and drapery stores, bakers, carpenters, coal merchants, brick layers and builders so that most of the village's needs were catered for. There were also several villagers recorded as fishermen although the waters of The Wash had long retreated from the village. Abraham Davis and William Flegg were kept very busy as carriers travelling to Lynn every Tuesday and Saturday to deliver or pick up any article requested.

Arthur lodged with Mrs. Annie Copeland whose husband Joseph was a groom on the Sandringham Estate. The house they lived in was the second one of the pair of semi detached cottages at the bottom of Sandringham Hill. The 1881 census records Mrs.Copeland with two children Alice, aged 2 and Bessie just 1. Also living in the house was Elizabeth Bobbins the mother-in-law and finally Arthur Cross, lodger, completed the record.

At that time Samuel Twaites, a retired baker, lived in the house next door with his wife Lydia, nephew Alfred Grice and lodger Thomas Tidy a smith. The house at the bottom of the hill on the corner of Manor Road was occupied by Robert Garman, who ran the bakery employing one man. He lived there with his wife Charlotte and Edward Fakes, the baker's assistant, was a lodger. There were also two visitors at the time of the census Kate and Charlotte Gossy.

On the opposite corner was the large premises of John Parker, grocer and draper, (present day Petals Tea Room) who employed three men and one female. He lived with his wife Mary, daughters Edith 19, Margaret, 16 and son Harry,17 the grocer's assistant. Charlotte Green a domestic servant made up the rest of that household. These houses still stand today and here we have the house today where Arthur lived in 1881.

When Arthur came to live in Dersingham Edward William Penny was our vicar living in the newly built vicarage. The church itself was just being thoroughly restored for the cost of £5000 . It had been entirely reseated with open pews of wainscot, a pulpit of the same and a handsome brass lectern had been erected.

In 1851 the Methodist group known as The New Connexion had built their small chapel opposite the school and held regular services there. In 1878 just Alfred arrived the Primitive Methodists opened their chapel in Chapel Road which only recently has been converted into a private residence.

Joshua Freeman was living in the Manor House and running the largest farm here of 1300 acres employing 45 men and boys and 5 women.

Enoch Taylor was running the The Cock Hotel, a small carrstone public house of 17th century origin that would, a few years after Arthur's arrival, be replaced by The Feathers Hotel we know today. The Dun Cow, the most attractive carrstone house with barns attached which used to stand on the site of the present Co-op Supermarket, was a popular drinking venue and farm run by John Smith. The White Horse, another favoured drinking place and small farm, stood where Jubilee Court is now and was managed by William Smith The Coach and Horses with Thomas Taylor as the publican, made up yet another popular meeting place at this time. The Albert Victor Beer House another drinking establishment recorded in 1881will be remembered by most villagers now as just The Albert at the start of Manor Road which served its last pint in 1982.

Theodor Jannoch had recently arrived here and was just establishing his nursery business at Brandenburg House at the bottom of Sugar Lane. Over the next few years this would become nationally famous and Theodore would move the business across the road to Dersingham Hall. The Prince of Wales was a frequent visitor.

John Goggs and his family were occupying Dersingham Hall from where he farmed 595 acres employing 12 men and 3 boys.

Enoch Beckett was running his grocery and drapery business with the Post, Money Order, Telegraph Office and Savings bank in the long cottage which now stands on the corner of Saxon Way. He would, some years later, move this business to the premises we all know in Post Office Road and his daughter Alice Maud Beckett would take on the responsibility. The mail would be received by mail cart at 6 a.m.each morning and despatched at 6 p.m. every evening.

Alfred Firth was the headmaster of the school which had only opened at the bottom of Doddshill just three years before Arthur arrived. Alfred and his family occupied the School House which was possibly that part of the building that is on the corner of Doddshill Road. Over the next few years Arthur would witness the steady increase in attendance and the consequent enlargement of the premises.

The windmill still stood at the very top of the village where Matthew Fitt ground the corn and ran his bakery and farmed 100acres. He employed 3 men, 1 miller, 1 baker and 1 carter. He lived with his 10 children, Jessie, Jane, James, Edward, John, Mary, Christmas, Bessie, Thomas, and Susannah. His oldest daughter appeared to be the housekeeper whilst one Louise Daws is described as Servant of all Works!

On the other side of the village closer to the marshes the Railway Station was now well established with frequent services to and from King's Lynn and Hunstanton. Matthew Bullock was the station master and Robert Long with his wife Martha ran The Alexandra Hotel immediately opposite. No doubt Alfred travelled here that day in 1878 by rail from King's Lynn, a journey of about 25 minutes. Perhaps he then walked up Station Road into the village to be welcomed by Mrs Copeland into his lodgings or maybe Sandringham provided a horse drawn trap to bring him and his luggage to his new home.

So this is the thriving developing village that Arthur came to in 1878 as a young man of just 20. A new vicarage, a new school, a refurbished church , new businesses starting , new houses being built, a new chapel, a rising population and close association with the Royal family. Exciting times!

As he began his duties as organist in Sandringham Church perhaps he left his home with Mrs. Copeland and walked up Sandringham Hill, past fields on both left and right as there were no other houses here at that time until he took the right turn through the woods to the nursery at the top of the hill. Maybe he had a few words with George Boughen the woodman or his wife Mary who lived in Nursery House before continuing through the woods to cross the road to the church for his first service.

Over the next few years Arthur worked to establish himself here and he would soon become very much involved in the musical life of the area and greatly appreciated by the Royal Family. But first the most important event to happen for him was his marriage to Alice Serjeant.

Alice was the daughter of John and Emma Serjeant of Haslingfield near Cambridge. John farmed 410 acres employing 19 men and 2 boys, a considerable holding. Alice, who had an older sister Mary and a brother John, can be found in the census return for Cambridge in 1871 aged 13 with twenty or so other young ladies attending the school at 1, Regent Street, Cambridge with Maria Sutton as School Mistress. Alice and Arthur married in Cambridge in 1884 and shortly after came to live in Dersingham by which time a second pair of semi-detached cottages had been built further up Sandringham Hill. The date stone is inscribed W.H.M. 1883 with the initials standing for William Henry Mann who was the sub post master at Sandringham when the house had its own Post Office. It was into the right-hand cottage that the newly married couple began their life together with William Mann and his wife Sarah as their neighbours. (1891 census)

But Alice did not forget her family in Haslingfield or the many happy years she spent on her father's farm as it would appear that she insisted her new home be called Cantelupe House (see end Appendix) which had been the name of her father's farm. To this day there is still a Cantelupe Farm and Cantelupe Road in Haslingfield The plaque was duly placed by the front door of the house on Sandringham Hill and all further records give their address as Cantelupe House.

Two years after their marriage, 1886, their first daughter Dorothy Maud was born. In the following years Audrey, Muriel, Gwen, Grenville and Howard were born. From the census records we learn that Arthur's mother Mary came to live with them and that they employed a Caroline Sayer as a servant and Mary Wells was the nursemaid. Here is where the family were living at the time of the 1891 census.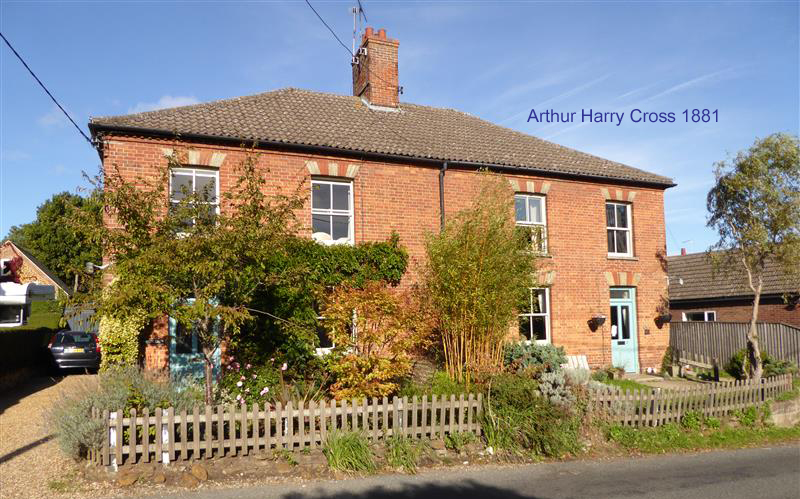 A study of the 1901 census would seem to suggest that Arthur and Alice had moved out of the small semi at the top of the hill into one of the two large detached houses which now stand between the pair of semi detached cottages and photographed today. These two large detached houses do not appear on the 1884 map and are not recorded in the 1891 census return but at least one seems to be listed in 1901 but they are both depicted on the 1905 street map of the village. With 6 children and at times five adults making up the household this would seem to have been a sensible if not necessary move to make sometime between 1891 and 1901. Their new home was still known as Cantelupe House. By 1901Dorothy was 15 and the youngest son, Arthur Howard, just 7.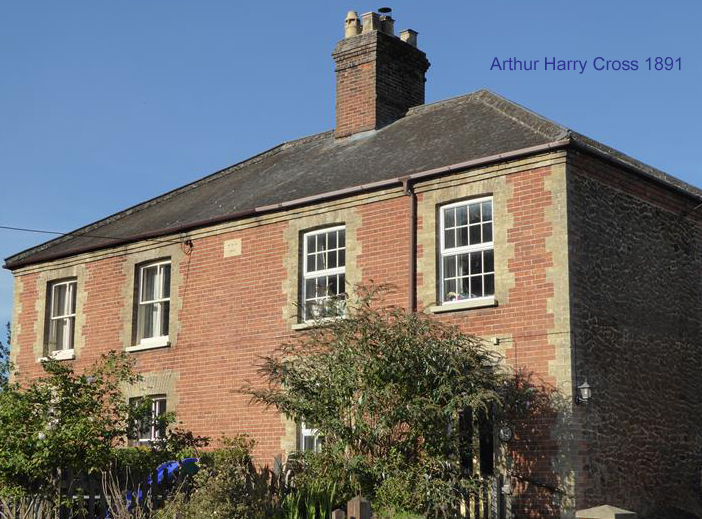 The children would all have most likely attended the village school under Mr. Firth. Certainly in June 1901 it was reported that Grenville B. Cross, the son of Mr. A.H. Cross, a pupil at Dersingham School had successfully passed the examination for admission to Christ's Hospital on the presentation of His Majesty.

Over the coming years Arthur firmly established himself in the musical life of the area and there are frequent reports in the local press about his activities. As well as carrying out his duties as organist for Sandringham Church services he was to be found playing at all the weddings held there. He was associated with the King's Lynn and the Hunstanton Amateur Operatic Societies as conductor and I am sure with his fine voice was also sought as a performer. He worked with the Hunstanton Choral Society, and the Heacham Choral Society as well as the Grimston Choral Class. He was also an active member of the King's Lynn Music Society. It seems highly likely to me that it was at this time he became very friendly with a conductor and composer from London called Howard Talbot. This friendship would become even more significant in the future.

Howard was born in America but aged just 4 he came with his parents to live in London. He grew up to become a conductor and composer best known for writing the music of several hit Edwardian comedies. In his early career he had several of his works performed by amateurs in Hunstanton and King's Lynn and could certainly have visited here. As Arthur was closely associated as conductor with both these societies it seems natural that the two men would became good friends. It is of course possible that with their common interests in music and conducting they had met earlier and that was the reason that Howard became involved with musical life if this area.

So, significantly, Howard's first professionally produced comic opera Wapping Old Stairs was performed first in King's Lynn in 1894 and I would think that Howard would certainly have come here then to help the production. It was so successful that it was transferred to the Vaudeville Theatre in London. Unfortunately, in spite of a strong cast, the show was not well received and closed after one month and a follow up work was also unsuccessful. In fact Howard had to sue the producers to receive the money he was owed for the work. Nevertheless I feel sure Arthur would have supported his new friend and attended the Lynn performance.

Howard continued his musical life in London, conducting there and in the provinces, composing many songs and further musicals with some measure of success.

In 1873 The Alexandra Palace had been built and it included a theatre. During WW1 the whole complex had been used as an internment camp but after the war the theatre returned to its former use. It was then that two of Howard's works, "Mousme", and "Arcadians" were performed there. It is fitting that now The Alexandra Palace, which had fallen into serious disrepair over the years, has been restored that a member of the family is working there as a volunteer to maintain the family connection.

Meanwhile Arthur did not neglect his home village for we learn from the Sandringham Estate magazine that in April 1899 he organised a singing class in Dersingham School room on Saturday evenings which was well attended.

In 1895 he may have been among the crowd that attended the opening of yet another new building, The Forester's Hall, in Manor Road (shown below). This finally gave the village an excellent venue for meetings and concerts. Thus it was that in December 1899 we learn of an entertainment at The Forester's Hall in aid of the War Fund. The Report stated:

It was promoted and arranged by Mr. A.H.Cross and the choral class under his tuition well sang several part songs. The Hall was quite full and the audience thoroughly appreciated the efforts of various performers. The Misses Wake and Mr. Ernest Bryant supplemented the singing by performing in good style the farce entitled A Lesson in Acting . Mr. H. Sandford Parsons also was most entertaining in his recitations and songs.
£10 was forwarded to The Daily Telegraph Fund and £2 18s 7d to the Daily Mail Fund.

In 1900 the Choral Class gave a concert of sacred music in The Forester's Hall under Arthur's direction. However, it was noted that, the attendance was not by any means equal to the quality and rendering of the music; but perhaps during Holiday week and immediately after the Sports dissipation on the Monday and Club Feast on the Tuesday it was not the best time to secure a full house.The villagers obviously knew how to enjoy themselves!
Although a little later here is much how Sandringham Road would have looked at the time Arthur and his family lived at the three properties followed by the same street scene today.
In The Eastern Daily News we read that in 1901 The Hunstanton Amateur Dramatic Society performed Patience by Gilbert and Sullivan. The reporter comments that the full chorus and orchestra were under the conductorship of Mr. Arthur H. Cross, Hon. Musical Director of Sandringham, to whom the chief credit for the undoubted success is due.

The following entry in the Sandringham Estate magazine reveals the high regard Arthur commanded.

May 1901
Presentation to Mr. Arthur H. Cross. The Sandringham Estate Choral Class

On the 29th March, at the weekly practice Mr. Arthur H. Cross, the conductor, was presented with a pearl and diamond pin, subscribed to by the members of the class, and presented by Mrs. Habberfield in a few well chosen words. Mr. Cross, who seemed astonished, thanked the members for their beautiful gift. The pin is in the shape of a crescent formed of pearls, with a diamond star and was supplied by Messrs. Burlingham & Sons King's Lynn..

So Arthur was leading a very active musical life with a large happy family around him, and he was certainly well liked in the village and all the surrounding area.

Early at the start of the new century his oldest daughter Dorothy decided to move to London to follow a career in the theatre. This was a brave undertaking for a young lady at that time and the family story is that Arthur contacted his good friend Howard Talbot, living and working in the city, to ask him to look out for Dorothy and take care of her.

It was in May 1906 that Arthur was involved as conductor in the Village Choir Competition held in King's Lynn. He conducted several pieces with different choirs when it was reported that half way through the competition Arthur had to leave due to a sudden illness.

This may have been the first warning that all was not well with his health. Sadly on August 29th 1906 it was announced that Arthur had died in his 48th year. It was remarked that, he worked hard and continuously and that his enthusiasm for the advancement of music had at last affected his health and brought him to a premature end.

The shock of his death at such an early age was felt by everyone including the Royal Family. The family received a letter Queen Alexandra transcribed and shown below:
"Too grieved to hear of your overwhelming loss and sorrow which will be shared by all who know your dear husband. My God support and comfort you and your poor children.
Alexandra.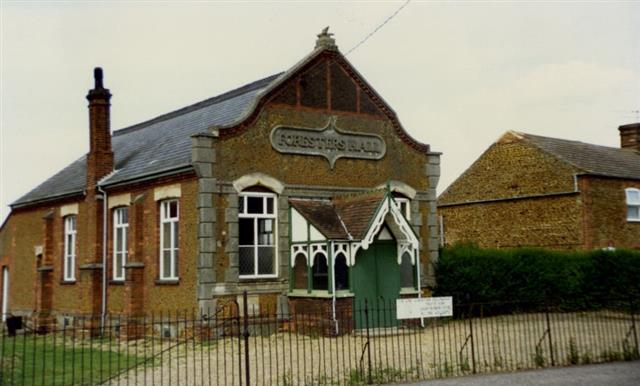 Alice and family did not stay in Dersingham for very long afterwards. They moved to Hunstanton and with photographs sent to us by the family plus some very skilful research carried out by Mike Strange the house has been identified. They moved to 27, York Avenue and in the family photo it can be seen that the name plaque Cantelupe now adorns the front of that house.

Members of the family also lived for some time on Cliff Terrace at Hatfield House.

It is very sad that Arthur did not live to see the marriage of his daughter Dorothy to his friend Howard Talbot in 1910. He would have been so pleased and delighted I am sure.


Audrey the second daughter was always known as Auds and she grew up to become chaperone to children of various French Ambassadors and travelled to many parts of the world. She was in Japan as it entered World War 2 and was held under house arrest. The Ambassador and his wife were put in prison but Auds was given the care and education of the children. She said that she tried to learn Japanese but found it very difficult. She eventually retired to Worthing.

We understand that the youngest son Howard was sent to Canada under mysterious circumstances.

Here is Sandringham Church and the view from the top of Sandringham Hill, the former much as Arthur would have known it while the latter is he would have seen it on his way home to Cantelupe House now much changed.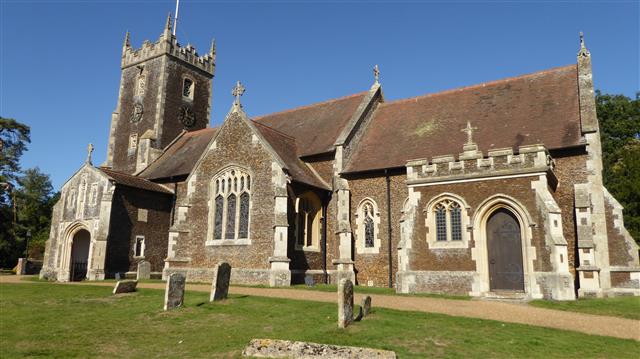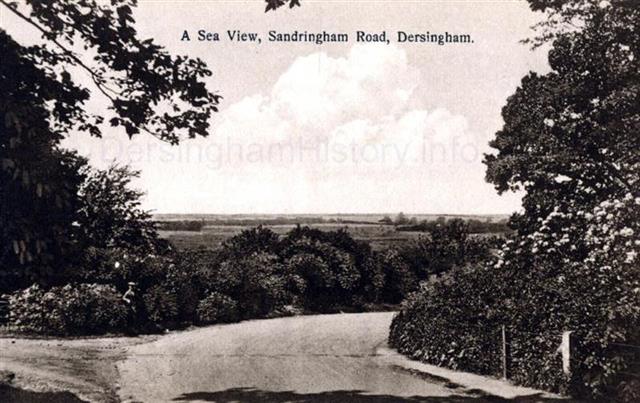 Appendix - Why Cantelupe House?
Early reference to Cantelupe
There have been two creations of the Barons De La Warr, 1299 and 1572 then elevated to Earl in 1761. The first Earl was John West, 7th Baron De La Warr (1693-1766) (or 16th Baron), who was created Earl De La Warr in 1761 and held the subsidiary titles of Viscount Cantelupe at the same time. The title Viscount Cantelupe continued with George John Frederick West, Viscount Cantelupe (1814-1850), eldest son of the 5th Earl (George John Sackville-West 1791-1869) and Lionel Charles Cranfield Sackville, Viscount Cantelupe (1868-1890), eldest son of the 7th Earl De La Warr (Reginald Windsor Sackville 1817-1896)
The Viscount Cantelupe title was apparently derived from Aston Cantelupe (or Aston Cantlow now), a parish in Warwickshire, which was granted to William de Cantilupe (an Anglo-Norman baron and royal administrator) in 1204 by King John. The family probably originated from the Norman manor which is now the small hamlet of Canteloup in Normandy, 11 miles east of Caen.
The family seat is Buckhurst Park, near Withyham, Sussex but was formerly Bourn Hall, Cambridgeshire.

Haslingfield; birthplace of Alice Serjeant
By the 18th century Haslingfield Hall, with its park and ancillary buildings seemed to have fallen into decay and subsequently became ruinous. Fittings probably from the house, reused or loose, have come to light in two houses in the village. The De La Warrs, who acquired the manor apparently during the first decade of the 19th century, moved the staircase and a chimney piece to Bourn Hall; they also re-erected one of the barns and incorporated much other material at Cantelupe Farm. Cantelupe Farm, house and buildings, was founded about the time of the enclosure of 1810-20, when the adjacent land was allotted to Earl De La Warr, from whose second title, Viscount Cantelupe, the property gets its name.
Quite why Alice became so attached to the name, transporting it from Haslingfield to Dersingham and on to Hunstanton, will probably remain a mystery.