DERSINGHAM HISTORY
Copyright © 2017
Dersingham Folk
All Rights reserved
Site by Mike Strange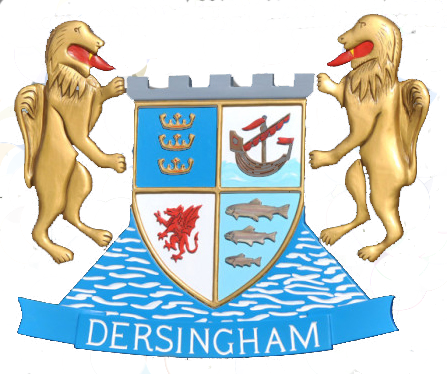 Houchen's
Elizabeth Fiddick ©
In Bank Road Reg Houchen set up a coach and taxi business; his daughter Gill remembered it all very well and this is her account in her own words. "Before he started in the coach business he used to work at Terrington's the Butchers which is now John Lincoln's Funeral parlour. When I was a little girl he used to go out on the butcher's round and when he'd finished he had some cars. He started up a taxi service and then he had the bus business. He kept the business in Bank Road. There is still a garage there now; he had that built I think in the 1950s. It was a big decision, he started with a very old bus-an old star bus; he had one or two second had ones. I can remember him having his first bus, it came from Dougal's in London. ( Name uncertain on the recording.) It was a real event. Everybody came to look at his new bus. He progressed until he had five buses.
He had school contracts; he had football teams, Darts teams, and then later on he used to do tours. He used to do school trips. Mr. Harrison of King's Lynn, George Harrison used to organise the trips to the Lake District for St. James' Boys School and they used to stay at Hammerbank. He used to do that every year. From then on Mr. Harrison would probably have other trips out and father would take holiday trips in England. Two buses always used to go. It wasn't any problem finding drivers then. There was public buses. Not very many and it was quite a thriving taxi business
.
Soon as I was 17 I couldn't wait to pass my driving test so then I used to do taxi work and I used to drive mini-buses. I used to take loads to Yarmouth or where-ever. He finished about 67 I think. He sold it to Mr. Wagg. It started to go down after that. By then there were a lot of cars. No-one had cars then. There wasn't hardly a night when he didn't have work. My mother used to drive on schools as well as I did. It was school contract work. They used to take the children from all the surrounding villages to all the different schools. Harpley, Flitcham, Dersingham Hunstanton."

Gill's account of her father's business perfectly illustrates the rapid growth in motorised traffic of all sorts throughout these years of the twentieth century. Garages were offering hire cars and deliveries were more and more made by heavy lorry or van. I have a road map of 1921-22 and it is easy to see the changes made to the main road to Hunstanton necessitated by this increase. At the point where the traffic lights now stand by the Caley Mill cross roads a new section of road was constructed to allow traffic to drive straight on up the hill to Hunstanton instead of having to turn left and go through Heacham.

---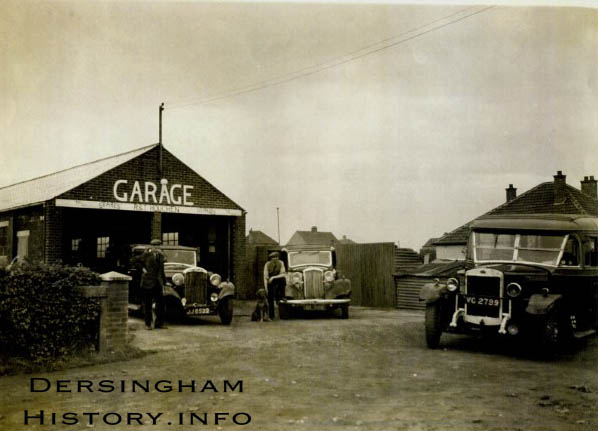 Tom Houchen is on the left and Reg Houchen is on the right outside the garage