DERSINGHAM HISTORY
Copyright © 2017
Dersingham Folk
All Rights reserved
Site by Mike Strange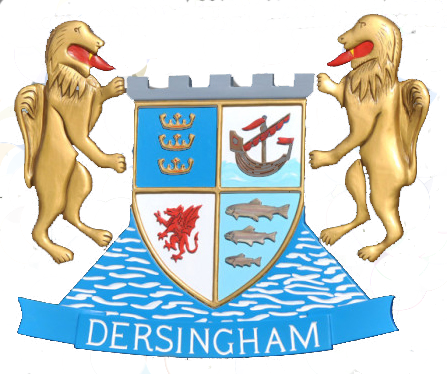 The Old Dun Cow, She's Done For Now
Elizabeth Fiddick ©
As with this pleasant water-colour of the original Dun Cow pub few dates or origins of the images used here are known as they were acquired from Dersingham residents over a number of years.
Yes indeed! The Old Dun Cow, she's done for now.
Comment from Dick Melton
When we moved into Lynn Road it was called Dun Cow Lane (or just Cow Lane from a postcard; Ed); it was a very busy road, as the by-pass was not built until 1990 so all the traffic used this road. Just after the Second World War it was the second busiest road in England in the summer months, the busiest road being London to Brighton. Most of the houses in Lynn Road were built around 1900 though a few were built later. The Dun Cow was pulled down in the Nineties, though there had been a public house on the site since around 1800. The Dun Cow was just one of the pubs that put up a team for the Ingoldisthorpe and District Cribbage League.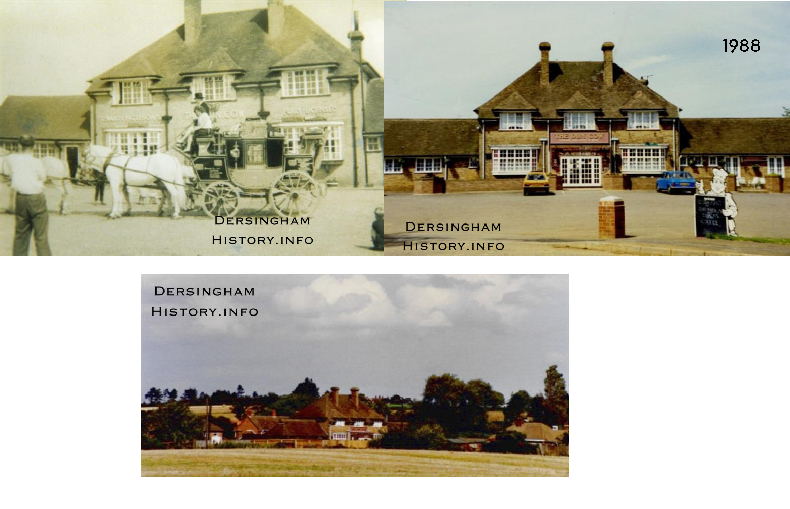 The view above is as the Dun Cow could be seen from The Drift in 1988 before the new housing was constructed on the Mountbatten Estate.

Dick tells me that in the 1970s David Buck became the youngest ever Landlord at just 21 years of age. But it was in 1993 that it ceased trading and stood with its windows boarded up for some time. Rumours abounded as to what was planned. A Nursing Home? Flats? As we know the Pub was demolished and Budgens Supermarket was built.

The area is still a hub of activity for the village as the Supermarket provides a valuable if different service to that of the Pub. Many villagers will remember new modern Dun Cow but the numbers of those who remember the original old buildings and farm are small and becoming smaller every year. Soon we will just have the old photographs and a very small section of curving wall to remind us of what once was there.

See below for a slide show of the Dun Cow being demolished and construction of Budgen store in 1994/5.