Dersingham First Aid Personnel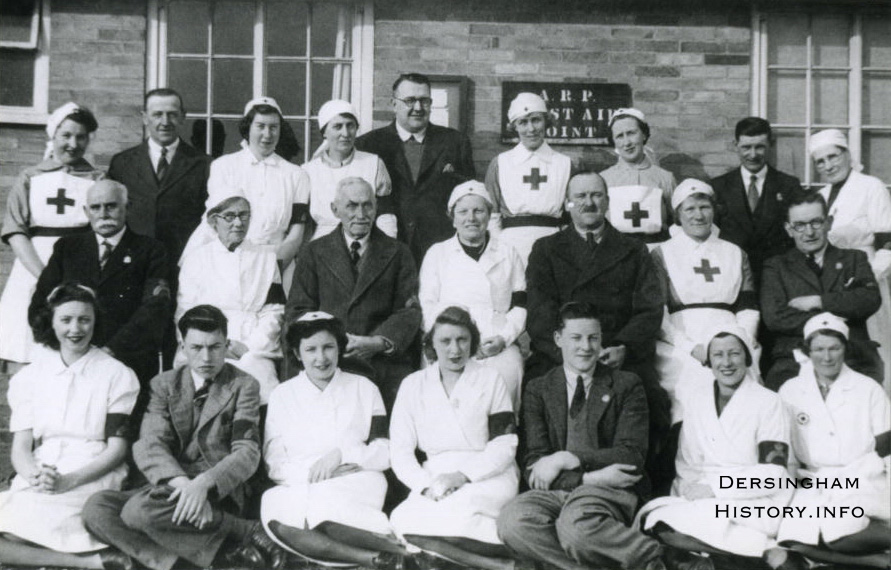 Back: Miss Athow, Mr F Houchen, Miss Goss, Mrs Glyde, Mr P Houchen, Mrs Bunting, Mrs Wilson, Mr J Welham, Miss Reynolds

Middle: Mr Drayton, Miss M Stanton, Colonel Morphew, Mrs A C M Coxon, (Senior Casualty Worker) Dr A C M Coxon, Mrs Burton, Mr Fisher.

Front: Miss M Rolfe, Mr. G Emmerson, Miss D Goff, Miss Standaloft, Mr J Playford, Mrs Stoveld, Miss Rout
"Salute the Soldier" Week Carnival
The carnival queen (centre) was Ann Linford with her attendants Janet Chambers, Olive Southgate, Joy Read, and Rita Hyner
Dersingham Branch of Women's Institutes July 1944 (1)
Back: Mrs Hunter, Mrs Drayton, Mrs (?), Mrs Hardesty, Mrs Twite, Mrs Bolton, Mrs Wells, Mrs F Wells
Second back: Mrs W Nurse, Mrs Whyatt, Mrs J Chambers, Mrs J Jackson, jun, Mrs E Riches, Mrs Barlow, Mrs Boughen,
Miss Yallop, Mrs Wilson, Mrs G Wells, Mrs Dew, Mrs Welham
Third: Mrs Blowers (out of frame), Mrs Harrison, Mrs S Wells, Mrs F Fitt, Mrs Harrod, Mrs Franklyn, Mrs Hodges, Miss Woods,
Mrs Gagen, Mrs Hudson, Mrs A Southgate, Mrs W R Senter, Mrs W Smith, Mrs Scas (?)
Second: Mrs Batterbee, Mrs Rolfe, Mrs R Stanton, Mrs Linford, Miss Butcher, Miss Farrant, Mrs Seaman, Mrs C Reynolds,
Mrs Jolley (vice-president), Miss A C Brown (President), Mrs R Houchen (hon sec)
Front: Mrs Chilvers, Mrs S Bird, Mrs Hammill, Mrs C Taylor, Mrs Francis, Mrs Courtney, Mrs W Walden, jun, Mrs Rayner,
Miss D Chambers, Mrs Manning
Dersingham Branch of Women's Institutes July 1944 (2)
Back: Mrs F Wells, Mrs Rutherford, Miss Bunting (?), Mrs Howell, Mrs T Houchen, (? hidden)
Second back: Mrs Welham, Mrs A C M Coxon, Mrs Allen, Mrs Lloyd Pratt, Miss C Stanton, Mrs Wilson, Mrs Prime,
Mrs Southgate, Miss H (?)
Third: Mrs. Scas (?), Mrs. A Nurse, Mrs Keeley, Miss Garner, Mrs (?), Mrs Burton, Miss Reynolds, Mrs R Daw,
Mrs Searle, Mrs Short, Mrs Firth
Second: Mrs R Houchen (hon sec) Mrs F Bunn, (vice-president), Mrs T Bunn, Mrs Taplin, Miss D L Brown,
Miss S Corkran (vice-president), Miss Sayer
Front: Mrs Manning, Mrs M Senter, Mrs G Lee, Mrs E Soanes, Mrs Leathersitch, Mrs W Fitt
Dersingham Wardens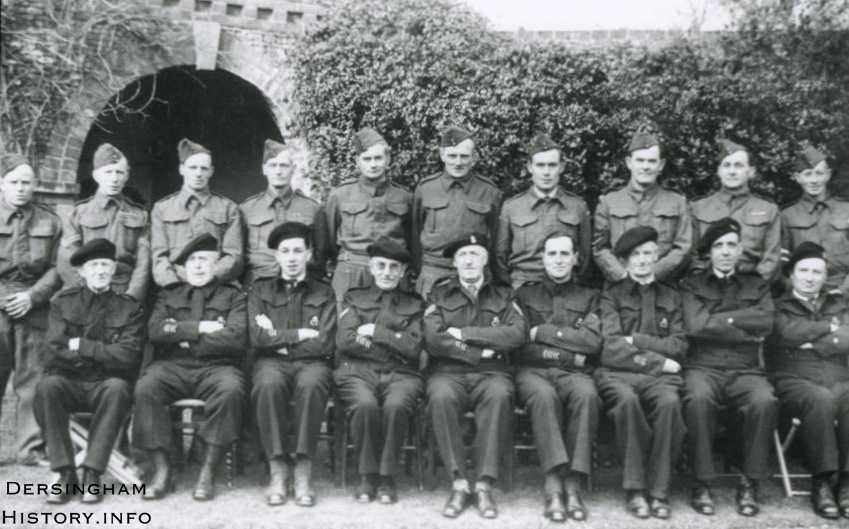 Back: Messrs G Blowers, H Standaloft, J Walker, Taplin, H Prime, L Tuck, C Lincoln, R Linford, Rayner, and Barnard
Front: Messrs W Walden sen, Potter, G Coates, D Terrington, Lloyd Pratt, (Senior Warden), J Jackson jun. Mason-Jones, Rolfe and E Tingle
Dersingham Savings Collectors
Back: Mesdames Linford, Whyatt, & MacGarigle, Miss A.C.Brown, Mrs F Wells, Mrs Rutherford, Miss E Stanton & Mrs W Walden (secretaries), Mesdames L Boughen, Read, H Nurse & Shipton

Middle: Mesdames Hodges, Warren, & Linford, Miss Garner, Mesdames Short, Drayton, Keeley & Allen

Front: Mrs S. Nurse, Miss Emmerson, Mrs Rayner, Miss Wardale, Miss Butcher, Mrs Stoveld & Miss Hammill
Dersingham Canteen Workers
Back: Mrs Mitchell, Mrs M Senter, Mrs Chilvers, Miss Farrant, Lieut Warren, Mr Mason-Jones, Mr C. Rayner, Mr Lloyd Pratt, Mr A L Tuck, Miss Allen, Mrs S Bird, Miss M Stanton, Mrs Wheeler, Mrs. Shipton

Middle: Miss M Beck, Mrs Linford, Mrs Courtney, Miss Butcher, Mrs Hodges, Miss E Stanton, Mrs W Walden, Mrs C Reynolds, Miss Garner, Mrs Leathersetch, Mrs Taplin, Mrs A Bird, Mrs Rutherford, Mrs Bell, Miss D Chambers, Mrs Wyer, Mrs Yaxley

Front: The Committee: Mrs W Twite, Mrs A C M Coxon, Mrs C Rayner, Mrs F Bunn, Miss Sitwell (Treasurer), Mrs R. Stanton (Chairman). Miss Hough (Secretary), Mrs Pain, Miss Yallop, Mrs Lloyd Pratt.

Mouse over, or touch, the picture for more information.
Dersingham Special Constables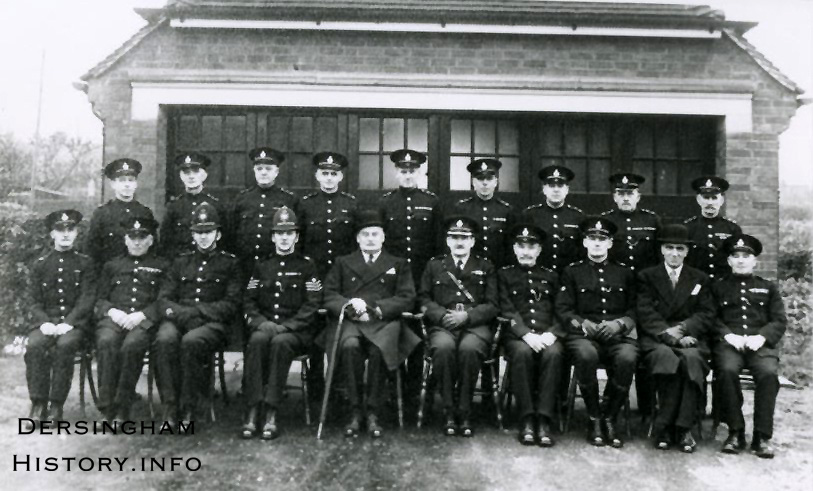 Back: Messrs Playford, Wells, Mapus-Smith, Whisker, Twite, Bird Cross & Benstead

Front: SPC Taylor, SPC Batterbee, PC Goldthorpe, Sgt Keeler, Chief Constable. S H van Neck CVO MC, Supintendant Woodeson,
SPC Reynolds, PC Mitchell, Detective Constable Watts & SPS Dunger
Documents